Send and File
Last updated
Send and File allows you to opt to be prompted to file emails to Document Management when they are sent.
Using Send and File - Outlook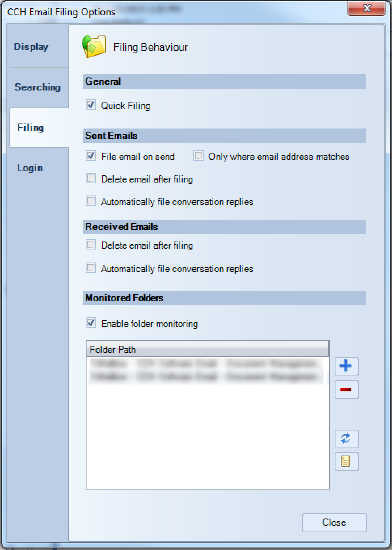 In Outlook, switching Send and File on means that every time you click Send in an email the Add Document window is opened. Fields are automatically populated based on your default settings and the email addresses you have stored in Central. Providing all the mandatory fields are completed you can click OK to file the email to Document Management, or if you don't want to file it click Cancel.
To activate Send and File you will need to set it up in CCH Email Filing Options. To do this click the

button at the top of the Filing Pane, then click Options and select the Filing Tab.
Sent Emails
The Sent Emails option will only be enabled for selection if Enable folder monitoring is ticked. Tick File email on send to file emails as you send them. The Add Document window will be opened with profiling details populated by defaults where these have been set.
Tick Only where email address matches checkbox to only file emails on send if a recipient email address matches a contact in the CCH Central database.
Tick Delete email after filing checkbox to automatically delete sent emails after they are filed.
Received Emails
Tick Delete email after filing checkbox to enable the automatic deletion of emails after they have been filed, either using drag and drop to the Filing Pane or via the Filed Details Pane.
Automatically File Conversation Replies
Tick this if you want replies to be filed with the same profiling options as when sent. This will stay in place for 14days and will the stop.
Preview on Add Document window for emails
The user has the ability to preview documents in the Add document window to assist with profiling emails.
To switch off the preview, click the Auto Hide icon
in the header of the email preview. To switch the preview back on, click on the Preview tab

to the right of the Add document window.