Email Filing
Last updated
Colour Coding Filed Emails
Microsoft Outlook lets you use conditional formatting to highlight certain emails. This can be used to set either a colour and/or a font to identify which emails have been filed to Document Management. The steps required to do this are as follows.
On the View tab click on the View Settings option to open the Advanced View Settings window. Click the Conditional Formatting... button.
Click Add and type in the name you want for the rule, for example Filed to CCH DM.
Next, click Font... and select the font, size and colour that you want filed messages to be shown with. Then click OK to return to the Conditional Formatting window.
Finally, click Condition..., then select the Advanced tab.
Use the Field dropdown in the bottom half of the window to select User-defined fields in Inbox > CCH.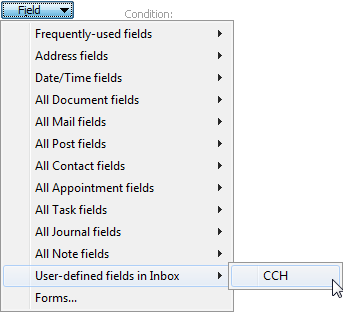 Use the dropdown in the Condition field to select equals, set the Value field to Yes, then click Add to List.
Click OK three times to go back to your Inbox.