Document Preview
Last updated
Whilst using Document centre you can preview the first page of a document.
Enable Document Preview
Either Right mouse click in the document list or column and then select Show/Hide Preview or click on in the Common group in the ribbon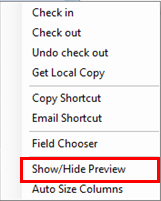 This displays the Preview pane between the main screen and the search/Properties panel.
Tip: You can resize the document preview by clicking on the edges the preview pane.
Now each time you select a document a preview of the first page is shown.
Detach Document Preview
You can right-click and select Detach. To display the preview in a separate window.
The detach window is sizable and can be dragged to another monitor or maximised to full screen.