Tasks Homepage
Last updated
It is possible to display tasks in a number of different configurations. By default when the Tasks Homepage widget is added the display is set to Tasks not yet complete by the logged in employee.
It is possible to change the tasks output display by right clicking within the homepage. The current view is indicated by a bullet marker.
The Tasks Homepage may also include non-workflow specific tasks such as CRM tasks, debtor enquiry notes. The Code column shows the task type.
Tasks indicated in red are overdue, and by default appear at the top of the list of tasks.
The Status of the task, its Priority and Due Date are also displayed, as well as the name of the client and the assigned user. Additional fields are available from the field chooser.
The workflow name is available as a new field, Workflow Name, in the Tasks homepage control and To Do tab from Client and Employee screen: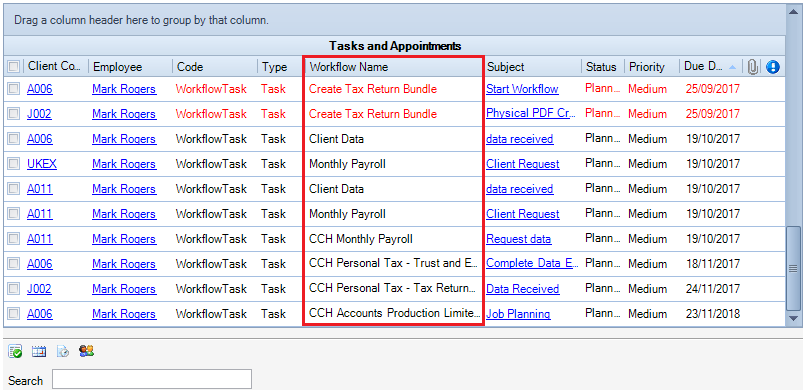 The workflow name is also displayed in the task dialog:
The Tasks homepage is available under Central within Customise Homepage unless your practice is licensed for CCH Practice Management, then Tasks homepage is available from under Practice Management.
Note: Changing a task view and or adding additional fields from the Field Chooser while in Customise Homepage maintains the changes even after logging on and off.