Workflow Homepage
Last updated
The Workflow homepage displays the progression of workflows from launch through to completion. This window displays all the milestone steps created within a template and the status of each step, so progression can be performed, analysed, edited or reported upon.
Note: A step only appears in the homepage if it is marked as a milestone within the template. If a step is not a milestone, it is included as a subtask, leading up to the completion of the next milestone.
If you have the relevant task permissions you can add the Workflow control to a homepage view. Select Home ► Task Bar ► Other Tasks ► Customise Homepage ► Workflow.
Drag the Workflows widget
into the view and resize while the Customise Homepage option is open.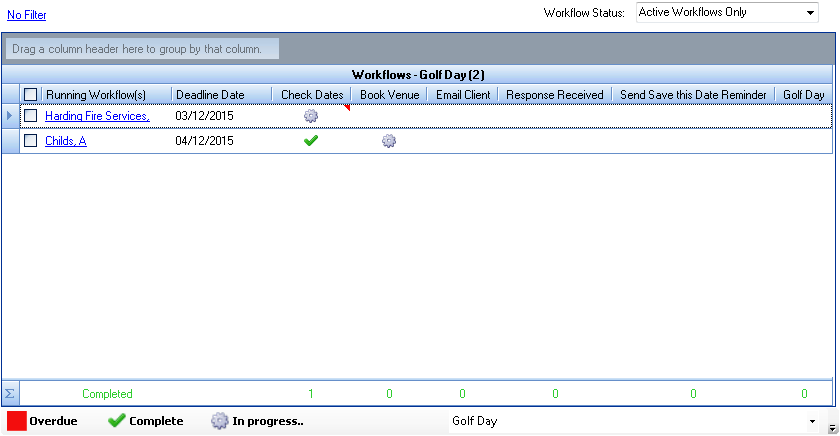 The current workflow template status is displayed in the drop-down at the top right hand corner of the window
Each client workflow is a row in the

Workflows

Homepage grid. The hyperlink accesses the client page.
Each column is a milestone step in the workflow template.
The status of each step is indicated by a symbol:
A completed step.
The current item in progress.
An employee is required to be selected to be assigned the next step.
A red flag in the cell indicates that a comment has been made on a particular task; to view the comment hover the mouse over the cell.
The Deadline Date in

red

, indicates that the workflow is overdue (see

Overdue Workflows

).
To select a different template click the drop-down at the bottom right hand corner of the window.
Total number of completed steps displayed.
The workflow status options are:
| | |
| --- | --- |
| Workflow Status | Filtering Result – all results relate only to the current selected template |
| Active | Displays currently running workflows that have active tasks and are running successfully. |
| Completed | Displays successfully completed workflows. |
| Cancedled | Displays user cancelled workflows (prior to completion). |
| Terminated | Displays workflows which were automatically cancelled by the Workflow system or Central, due to an error. |
| All | Displays all workflows statuses which have been run for selected template. |
TIP: The templates are displayed alphabetically with the default status filter set as Active. Changing either the template or status while in Customise Homepage maintains the changes even after logging on and off.