Import/Export Templates
Last updated
Import from File
To import a workflow template, (from either the same or a different database) click Import From File from the Task Bar.
The following message box is displayed, which advises that the Employee Type values are cleared when importing a workflow template.
Click Yes to continue
| | |
| --- | --- |
| Path | Browse to the location of the saved .xaml. |
| Name | Enter either an existing template name to overwrite or enter a new name to create a new workflow. |
| Deadline Date Type | Select either Calendar Date or Offset Date. |
| Deadline Date | Depending on the selection above, either a calendar or a selection of offset dates are displayed. |
| Subject | Select an available subject. The workflow subjects returned are dependent upon the products for which your practice is licensed. |
Enter details into the Import from File window, click OK to import workflow template.
The Workflow is automatically opened and the user is required to update all step values for Employee Type. The workflow cannot be saved until all validations are addressed.
Export to File
To export a workflow template, highlight the template to export, click Export To File from the Task Bar.
The Save As window is returned.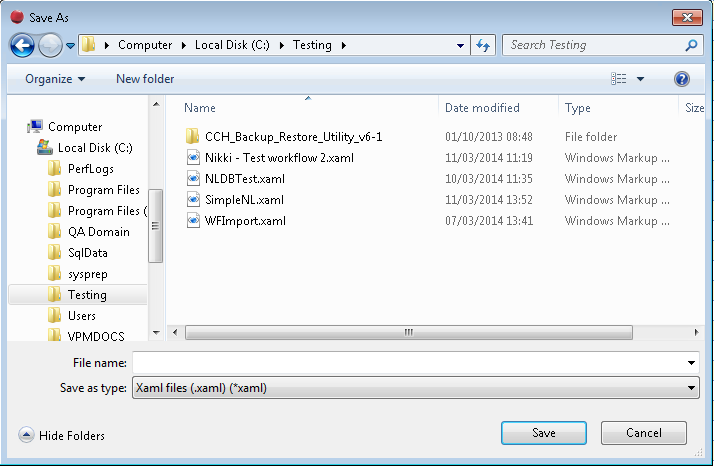 Enter a file name and browse to the location to save the XAML file.
Click Save
The workflow template has been successfully exported.
Note: Workflows exported from the Advanced Designer cannot be imported into Standard Workflows.