Opening a Saved Report for Editing
Last updated
Within the Change Report window you are able to make some changes to a saved report and/or use an existing saved report to create a new report.
Open a saved report for edit
Select the report category and subcategory containing the report you want to edit.

In the Reports window, click on a report to select it.

Click on the Edit button to open it in the Change Report window.

Click on the fields from the Fields section on the left panel to add more fields to the report.
A message will be displayed telling you that this will change the report.

Click Yes to the message.
6. You can add or remove fields to the report by clicking and dragging them between the report area and the Fields section on the left panel. You are also able to edit totals, sorts and filters.
7. When you have made your edits, click on the Save icon,

to save your edits.
8. In the Save Report Layout window, accept the Save as new report option, enter a new title and description for the report layout.
9. From the Security Group drop down list, select which security groups are allowed to view and edit the report.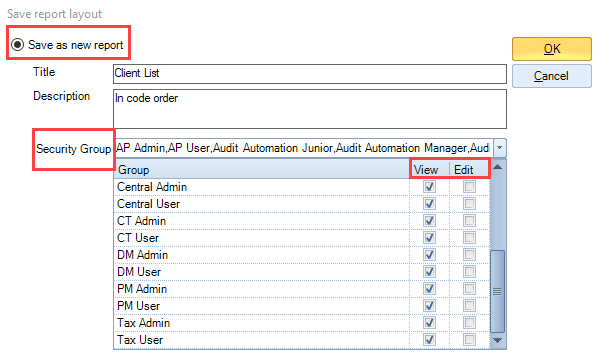 10. If you want to overwrite the existent report, click on the option Overwrite existing report and chose the report you want to overwrite.
10. Click OK to save the report.