Version History
Last updated
Version History contains details of the history of the document, such as the creation date and details of what was modified.
Version History
To open Version History, open a Client, Contact or Global Documents Centre and then click Version History button in the Properties panel.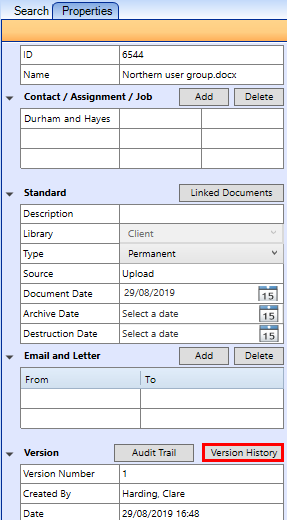 In Version History right-click on a document to revert back to an earlier version of the document if needed.
You can also see Comments if added when a document is checked in
Rollback to a Previous Version of a Document
You can roll back the version from the Rollback icon in the ribbon Version Control group:

The rollback functionality allows you to revert back to a previous version of a document.
When you select Rollback in the ribbon, the Version History screen opens and you can right mouse click the document you want to roll back to and select Revert to this Version
A message appears asking for confirmation that you are sure that this is the version you would like to revert to. Click the Yes button to make the version selected the latest version.
A new version of the document will be created with the comment "Reverted to Version x" where x is the version the user converted from.
---
Note: The previously active version of the document will not be deleted.