Advanced Search
Last updated
Advanced Search allows you to specify a more detailed search utilising the metadata provided when documents are uploaded or created in CCH Document Management. The list of searchable fields also includes any custom fields and keywords.
Create Advanced Search
Click

Advanced Search

at the bottom right of the search panel.
To add the search criteria, click the option

Click here to add search criteria

.
The first field in

Advanced Search

contains a list of all the fields that you can search on. Choose the required field from the drop-down. Some of the the options include:
Create date - provides a calendar to specify a date
Type - provides a drop down list of document types
Created by -displays this button to open the

Find Employees

search.
The second field contains the operators to apply to the search field provided e.g. equal, not equal, between and so on.

The third field is used to specify the details that you want to search for. For example, if you selected Assignment in step 4, then you would need to select the assignment name. The available options depends on the criteria specified in the first field. Other available options include: searching for criteria or typing text.
When done click

Apply

to create the search.
In the example below, the search will return all documents for the client The African Wildlife Trust linked to the Audit assignment:
The filter applied appears in the search section as a hyperlink and can be clicked to open the Advanced Search window so it can be modified further.
Save Search Results
To save the search criteria to use again, click

Save

under

Saved Search

on the

Task Bar

.
Enter a

Title

and

Description

for the search (required).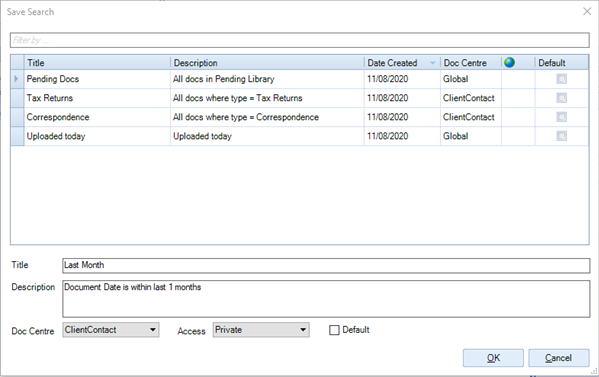 You can determine which Document Centre it saves to if the search is Private or public. If the Deafult option is selected, the search will run each time you open the document centre. Click

Save

.