The Filing Pane
Last updated
The Email Filing pane allows you to drag and drop emails to be filed to specific contacts, or non-contact libraries.
Layout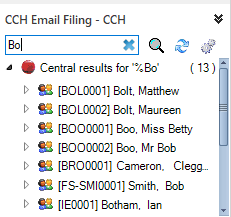 The top of the pane consists of a Search box, along with a Refresh and a Tools option.
The main part of the window is divided into four sections, Matched, Recent, Favourites and Other Libraries. These are the areas that you will be using the most.
Matched, Recent and Favourites will each show contacts for you to file against. You can set a limit for the number of results returned in each of these using the Tools option.
Other Libraries will allow you to file items to non-contact libraries.
Filing
Filing documents is a simple process of dragging and dropping items onto the relevant section of the filing pane.
For client filing, in addition to filing against the client you will also be able to add additional meta data by filing to an Assignment or Job node.
Once you have dropped a document onto the tree the Add Document window will be opened. This allows you to quickly review the meta data, add any additional information if needed, then click OK or hit Enter to file the document.
If the email contains attachments, when you detach them they will be added to the grid on the Add Document window and the meta data populated with the same details as the email. When the files are uploaded they will be linked with the link type Email/Attachment.