Add Multiple Documents by Folder
Last updated
The Select Contents from Folder check box on the Add Documents window allows you to add multiple documents contained within a folder on your workstation or server. If you want to add individual documents then see Add Documents for a contact or client.
Add Documents from Folder
Select the client or contact that you want to add documents for and then click

the Upload icon from the Ribbon Bar

. For more information about the various ways to add documents see: Add Documents Overview.
Click on the drop down arrow on the right of the button. Select

Folder

.

Locate the folder contents that you want to upload and then click

OK

. The upload includes the contents of any subfolders.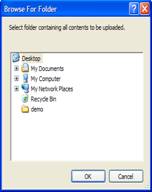 Review the contents of the

Add Document

window and add any additional filing information, then click

OK

to upload the documents to the selected library and contact. Any rows which are not required can be removed by selecting the row and clicking delete on the keyboard. This does not remove the original file but removes it from the upload screen.